Keeping Fit With Golf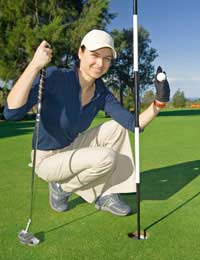 The image of golf many of the uninitiated conjure up is of a gaggle of middle-aged accountants strolling merrily around some landscaped and well maintained green space dotting the I's and crossing the T's on the latest biggest contract before sitting down to a well earned three courses that will result in a few more notches on their designer trouser belts becoming redundant.
Well, there is some truth in the above: namely that many middle aged people do indeed enjoy the game as much as those both younger and older than themselves.
However, it is very unlikely that participants of the sport, of whatever age group, are going to be able to enjoy it without a certain level of fitness.
Cardiovascular
Let's take the course for starters. The average 18 holes will require covering a distance on foot of between four and five miles, some of which will involve climbing the steep embankments that form part of hazards such as greenside bunkers. At regular intervals they will be either pulling a trolley of taking the strain of their golf bag. All this is not for couch potatoes because it will require a fair level of cardiovascular fitness as well as muscle strength. Those poor old feet are going to have to work hard, too.
Some beginners are surprised by the physical challenge of simply completing the course but find that as they develop their game they feel both fitter and healthier. Must be all that fresh air.
These health benefits are supplemented by the improvements in muscle tone and posture that come from the number of repetitions required to play the great many strokes needed to complete a round. Swinging the range of clubs in the golf bag calls on the services of the shoulders, arms, hips and knees and when executed correctly, and this point should be stressed, offers an all-round workout that many other sports cannot provide.
Muscle Tone
Indeed, what better excuse for a bad round than explaining to your companions that you were glad of taking those extra shots because they allowed you to gain some more muscle tone. Of course incorrect use of the clubs is anything but healthy, leading to potential injury, so to get as much out of playing a round from a health perspective it is essential to ensure the technical aspects of swinging the club are adhered to.
The mental side of the game should not be overlooked. A round of golf presents many different situations that call for judgements regarding the best course of action. Better stroke play will leave you with less to think about, but whatever the level of skill the brain is going to get a very useful workout.
Social Function
The sport also provides a useful social function, introducing you to people you might not otherwise meet. Whatever line of work people are in, they'll always be brought together by a mutual love of the game and invariably get on famously. And that even includes accountants - but don't quote me on that.
You might also like...