Choosing a Golf Club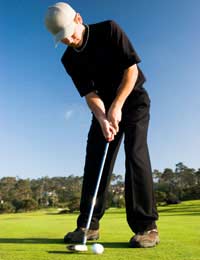 There's many a time when your average golfer envies the professionals: fame, fortune, perhaps the occasional spot of fast living. But facing a difficult approach shot to the green or digging a ball out of deep rough, the one accessory of the major players all golfers envy is a good caddie.
A common misconception is that these guys and gals are nothing but glorified bag carriers. This could not be further from the truth. In reality, a word in the player's ear on how a particular green will play or what club to use in a certain situation can represent the difference between winning and losing.
However, for the average player, a caddie is very rarely an option, so it's important to know which club to use.
The Best Club to Utilise
The specific roles of the driver and the putter mean that little needs to be said about these guys, although the latter is not necessarily reserved for the green. Depending on the lie and distance from the hole, a putter can be used to bring greater accuracy to a shot from off the green than, for example, a wedge.
Woods and Irons
The driver and the putter form part of the 14-strong armoury that constitutes a full set in a golfer's bag. The remaining clubs consist of woods and irons, the distance afforded by individual clubs decreasing the higher the number with the reverse true for the amount of loft, for example a three-iron offers significantly greater length than, say, an eight- or nine-iron but a lot less loft.
In terms of using woods or irons when hitting long from a good lie, making the right choice is something that comes with experience of how far you can hit a ball with a particular club when making good contact between ball and club face. In short, no two players will make the same distance given differences in physique and technique, so it's a case of trial and error, and ultimately sound judgment.
Dealing with Deep Rough
The amount of loft required again depends on the distance you want to make allied to which particular hazard you are trying to avoid or escape from. For example, aiming to strike the ball over 100 yards from a good lie in order to avoid a bunker will probably require one of the higher ranking irons, say a seven or eight. By contrast, dealing with deep rough may require a nine-iron or a wedge. And, of course, if you find yourself with a sand wedge in your hand, chances are that aforementioned iron shot didn't quite work out as you planned.
Secret Delight
So in the absence of a caddie, mere mortals have to trust their own judgment, or that of their playing partner or partners, which is not always advisable given the competitive nature of the game. After all, even the most sporting among us take a secret delight in another player's misfortune.
You might also like...