Practical Considerations For Your Golfing Break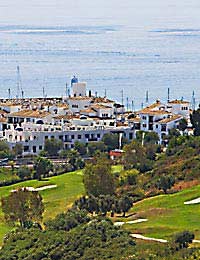 With all the excitement surrounding that golf trip of a lifetime it is all too easy to forget about the small details that may make all the difference between a happy holiday and a nightmare journey. Should you, for example, be travelling to mainland Europe, then think about how well you speak the language? Not one word? Well, don't forget your phrasebook. Not only will it come in handy during the social part of your stay, but should you find yourself in a tricky situation on the course, then attempting to explain your predicament to a club member solely through dramatic hand gestures may not be enough to get the message across.
Wear and Tear
Stock up, too, on some first aid items, such as plasters to ease the pain of those blisters that have resulted from playing 18 holes every day in brand new shoes, and an elasticated knee bandage to limit the amount of wear and tear.
Given the current state of the weather in the UK, it is likely that wherever you head off to is going to be a damn sight warmer than the last eight or nine months at home, so pick up a few bottles of sunscreen that will offer maximum protection during those long, hot afternoons on the fairway. Equally, a hat incorporating protection for the neck will prevent sunstroke. It may leave you hot under the collar, especially if you are experiencing a less than perfect round, but it will prove invaluable. And just in case the heavens do decide to open unexpectedly, pack a foldaway rain jacket that will prevent you returning to the clubhouse wet and miserable.
Many golfers feel uncomfortable relying on club hire when on holiday. After all, how can you get in the swing of things and really enjoy your game if you are having to deal with unfamiliar equipment? Of course, some may feel the idea of taking their own clubs sounds like a pain in the neck, but when you're standing on the first tee holding that trusty driver you know so well, you'll be glad that you made the effort. If you are flying, you may find that your airline will levy an additional charge for your bag and clubs; others may allow them to be included in your free baggage allowance, so it is best to check the policy of an individual operator prior to booking.
An Unpleasant Surprise on the Carousel
And remember that your clubs will be destined for the hold, so it is wise to invest in a tailor-made travelling bag that will offer protection from the buffeting that is part and parcel of loading and unloading from an aircraft. You don't want an unpleasant surprise to emerge onto the carousel in baggage reclaim.
If you possess travel insurance, ensure that your clubs are covered under the existing policy. Alternatively, should you be taking out new cover, it may be worth considering one of the specialist packages specifically designed for golfers. These not only take account of equipment theft or damage but also sports injuries.Remember that you would be loathe to rush a chip shot or crucial putt, so why take your eye off the ball even before you are on the course. Ensure your check list has all the boxes ticked before you click the locks on your case. Oh, and don't forget your passport.
You might also like...