Advantages of Golfing Day Trips & Short Breaks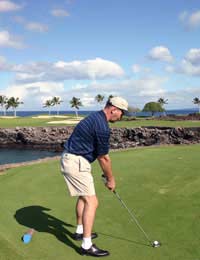 Just how much do you love the game? That's the question you've got to ask yourself when deciding on whether or not to book a golfing holiday. After all it's good money that you are going to be shelling out, so you've got to be absolutely sure that you get the most out of the experience. Some people find that the diversion that the game provides from everyday life back home is absent because of the new and exciting environment provided by their holiday destination. Suddenly, great beaches, breathtaking scenery, interesting restaurants and nightlife, or simply the chance to ease off the gas mentally makes a game of golf not as necessary, thereby wasting the green fees and golf facilities that drew you to the location in the first place.
Of course, some golfers prefer not to do anything by halves, opting for an expensive two-week break at a top course. Unfortunately their enthusiasm can quickly wane either because of the sort of holiday attractions mapped out above or because of the pressure they feel under to play as much as possible in order to justify the time and expense of basing their break around the game of golf.
Two Weeks Can be too Long
The solution to these woes? Curb your understandable enthusiasm and be more modest in the time and money invested in a golf break. Two weeks can be too long even for the keenest exponents of the game; their partner may not be too thrilled, either. So why not check out the courses or country clubs that are within an easy drive or train journey from where you live. Choosing such a location that is more easily accessible means a short break, even a day trip, can be easily completed. You want to arrive and depart relaxed, so if it is a weekend you are contemplating, ensure that the journey doesn't involve negotiating any airports.
Blow Away the Cobwebs
In terms of choice in the United Kingdom, most of the favourite destinations are never too far away, be they one of the world famous venues in Scotland, or perhaps one of the links courses in the north-west of England. Not only will the likes of St Andrews or Royal Birkdale provide a taste of what is on offer away from your usual course, but the natural beauty of the surrounding area will provide a short, sharp envigorating gust that will blow away the cobwebs of daily life. In short, everything you would want from a short break away.
If you find that basing even a day-trip or short break around golf exceeds your enthusiasm for the game, you will have saved yourself the dispiriting prospect of counting the days till you return home that a longer trip would have entailed. On the other hand, you may find that the shorter package fulfils all you expectations, and a longer "golfing fix" is not required. Either way, you will be in a better position to judge how much holiday time you want to dedicate to the sport without blowing the budget for the entire year.
You might also like...