Lengthen Your Golf Drive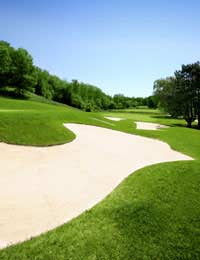 Complacency is the enemy of every golfer, whether they be a seasoned professional or an amateur who has reached a good standard. Get to the stage where you think you know it all, and that invariably is when your game begins to take a downward spiral.Happily there are very few players who fall in to this trap. Rather the vast majority are always striving to get better, and that is a guarantee of further success.
Competitive Urge
One of the more common areas where improvement is sought is in the amount of yardage made with the long game. You might be very pleased with that 200-yard wood or long iron shot, but if you're playing partner hits 220, then the competitive urge will inevitably kick in.
However, if you want to avoid disappointment, it is important to remember that you won't hit the ball further by increasing the speed of swing or attempting to transfer as much energy as possible from the shoulders in to the club. In short, forget brute force. Such poor technique may very well reduce the length of your shot and almost inevitably your accuracy will suffer, too. Yes, more power will mean you'll drive the ball further but it must not be applied to the detriment of technique - the very opposite of what you are striving to achieve.
Fitness and Health
Muscle strength does come into play when aiming to hit longer but as a starting point it would be advisable to leave the clubs in the boot of your car and head for the gym in order to build up strength in your back and legs. It is from this area of your body that the extra strength will come. Gym work will not only improve your long game but also your all-round fitness and health, which means that it won't be just your golfing ability that will feel the benefit.
Technical Specification
It may be that your choice of club is hindering the length of your driving. Yes, the one- or two-wood is designed to hit the ball furthest, but if it is not used efficiently and the ball and club face do not interact correctly, then maximum yardage will not be achieved. The three-wood is an easier club to use, and while it will not hit the ball further in terms of technical specification, the fact that you're more likely to utilise it more effectively will mean that you may achieve greater length through better application of swing mechanics.
A More Demanding Wood
In turn, improving technique will mean that you are better equipped to move on to a more demanding wood, and this will increase the length of your driving still further.If you're in doubt about the best way forward, don't be afraid to consult the club pro and book some lessons. And apply what he or she teaches you on the driving range. It is not a sign of weakness, rather an acknowledgment that you're happy to listen and learn and practice. This is a philosophy that will continue to serve you well as your knowledge of the game deepens.
You might also like...